Listing Details
Photos (9) / Map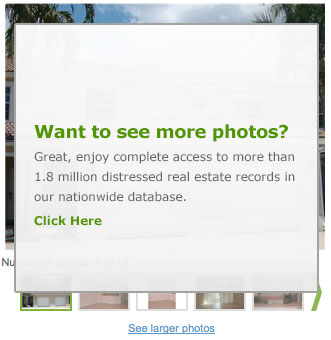 ✔ $100 Down - Government Owned
3 Beds | 2 Baths | 1,914 sq. ft.
Foreclosure
Listing ID: 52495436
$89,100

Save Listing
Purchase this incredible HUD home with just a $100 down payment! U.S. Department of Housing and Urban Development (HUD) is a federal agency that insures mortgages to homeowners through its Federal Housing Administration (FHA). Therefore, when banks foreclose on HUD-guaranteed mortgages, the government agency acquires the properties and often offers them for sale at super low prices to the public. HUD houses are among the very best deals in real estate today. Act fast!
Sign Up Now!
Listing History
| Start Date | End Date | Listing Type | |
| --- | --- | --- | --- |
| 01/26/19 | 04/20/19 | Foreclosure | View now |
| 01/17/19 | 01/18/19 | Preforeclosure | View now |
| 12/11/18 | 01/17/19 | Preforeclosure | View now |
FIRST STEPS:
Foreclosures
You've identified an ideal foreclosure property. Now what?
Properties listed as foreclosures have passed the point of auction or public sale. Because the properties were not sold at auction, the lender is now the owner and is engaged in the process of marketing and selling them to potential buyers.
A property will most likely be listed with a Realtor® who can assist you with submitting an offer.
Contact the listing broker's office as soon as possible to learn about how to visit the property, make offers, and close a transaction. For your convenience, this contact information is located to your left under the property's "Contact Information" header.
This is a big investment. Therefore, learn as much as you can about the property, lender, loan amount and expenses the lender wants to recover.
Once you've gathered this information, it's time to make an informed offer.
Always keep in mind that the seller's primary objective is to recover the amount of the loan balance that was not paid by the previous homeowner, as well as the costs of the foreclosure action and other expenses.
However, the longer lenders own properties, the more eager they become to sell them, often at reduced prices.